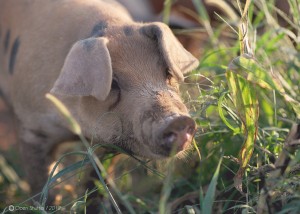 Thanks for your interest in our natural pork.   Check out our store tab to see our current availability!  Bulk packages and whole pigs will be available in September and October.
We have our pork available in retail cuts at the farm!  We also offer sampler packages and you can even order a whole pig!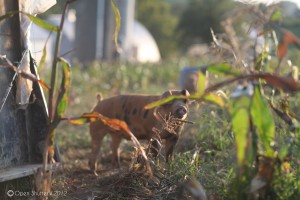 About our production:
The pigs are raised outdoors on pasture and are supplemented with a whole grain, non gmo, antibiotic free feed.
Whole Pigs are $$4.25/lb hanging weight and require a $250 deposit.
The above prices include all processing costs (hams, sausage, bacon, vacuum sealing, etc).  Hanging weight for a whole pig will normally be in the 190-220lb range.
Our packages:
50lb Griller package:
15lbs smoked no nitrate ham steaks
15lbs thick cut bone-in pork chops
20lbs assorted sausage
$375 ($7.50/lb take home weight)
$100 deposit required
50lb Slow cooker package:
20lbs ham roasts (smoked, no nitrate)
20lbs shoulder roasts
10lbs loin roasts
$375 ($7.50/lb take home weight)
$100 deposit required
50lb sampler
6lbs bacon (no nitrate)
10lbs smoked no nitrate ham steaks
4lbs smoked no nitrate ham ends
10lbs shoulder roasts
10lbs thick cut bone in chops
10lbs assorted sausage (your choice of 2 of the following: smoked kielbasa grillers, sweet Italian grillers, smoked maple grillers, breakfast links,  fresh patties, and ground pork)
$375 ($7.50/lb take home weight)
$100 deposit required
100lb sampler
12lbs bacon (no nitrate)
20lbs smoked no nitrate ham steaks
8lbs smoked no nitrate ham ends
20lbs shoulder roasts
20lbs thick cut bone in chops
20lbs assorted sausage (your choice of 2 of the following: smoked kielbasa grillers, sweet Italian grillers, smoked maple grillers, breakfast links,  fresh patties, and ground pork)
$725 ($7.25/lb take home weight)
$100 deposit required
150lb sampler
18lbs bacon (no nitrate)
30lbs smoked No nitrate ham steaks
12lbs smoked no nitrate ham ends
30lbs shoulder roasts
30lbs thick cut bone in chops
30lbs assorted sausage (your choice of 3 of the following: smoked kielbasa grillers, sweet Italian grillers, smoked maple grillers, breakfast links,  fresh patties, and ground pork)
$1050 ($7/lb take home weight)
$100 deposit required